Meet Your Providers at Caldera Family Medicine
Our proficient team of Nurse Practitioners, Physician Assistants, and outside specialists have a primary focus on prevention, wellness care, acute and chronic care, mental health support, and other evidence-based care and needs. Each provider is passionate about patient care and contributes to the success of Caldera Family Medicine. 
BRIANNE KANEHL
Family Nurse Practitioner
Brianne Kanehl graduated with her Master's degree in Nursing from Samford University and is board certified in Oregon with over seven years of medical experience caring for patients across the lifespan. She especially enjoys working in women's health, pediatrics, and mental health. Outside of the office, Brianne stays active. She is a certified yoga instructor and enjoys biking, skiing, camping, and hiking with her two dogs. As one of her most significant accomplishments, she summited Mt. Kilimanjaro in Tanzania with the nonprofit organization CARE Canada.
KATE MEYER
Physician Assistant
Kate Meyer earned her Bachelor's degree in Kinesiology from Oregon State University and her Master's in Physician Assistant Studies from Massachusetts College of Pharmacy and Health Sciences in Boston, Massachusetts. She has lived in Bend since 2012 and is ecstatic to practice medicine here and serve the community she loves. Kate sees patients of all ages. Her approach involves listening and meeting everyone with compassion and kindness. Outside of work, Kate loves practicing yoga, cooking healthy meals, and enjoying the outdoors with her husband and two dogs.
KENDRA OWENS
Family Nurse Practitioner
Kendra Owens graduated from Concordia University in Milwaukee, WI, with her Master's of Nursing in 2013. She worked in Wisconsin as an Oncology/Hematology Nurse Practitioner for two years before making the long journey to live in Bend, OR. Kendra is board certified as a Family Nurse Practitioner in Oregon and joined the CFM team in 2014. Compassionate and dedicated, she is motivated by helping patients during their most difficult days and forming long-term relationships with them. With her husband, young children, and two energetic dogs, Kendra loves exploring the outdoors, from paddle boarding to snowboarding. She is passionate about travel and has been fortunate to have spent time in Europe and Mexico and volunteered with Hope without Boarders in Tanzania, Africa.
KIRSTEN HERON
Physician Assistant
Kirsten Heron earned her Bachelor's degree from Boston College in Massachusetts. After this, she pursued a medical career and graduated from Pacific University with her Physician Assistant degree in 2003. As an industry veteran, Kirsten loves caring for and seeing her patients grow—often seeing them throughout life's biggest transitions. She's an integral part of our clinic and Bend's healthcare community. As an Oregon native (from Portland and Bend), Kirsten is an avid skier and alpine coach and enjoys the area's many outdoor activities with her husband and two children—from white water rafting to mountain biking.
Thomas Leavitt
Nurse Practitioner
Thomas (Tom) Leavitt is a Nurse Practitioner who joins Caldera Family Medicine after a decade working in the St. Charles Emergency Department. A Central Oregon native, Tom obtained his Bachelor of Science in Nursing from Linfield University, where he also played football. Tom believes the patient-provider relationship should be one of equality, and he puts his patient's values and beliefs at the center of his evidence-based care. When he's not in the clinic, you can find Tom partaking in stereotypical Bend adventures—mountain biking, snowboarding, paddle boarding, or hiking—with friends and family.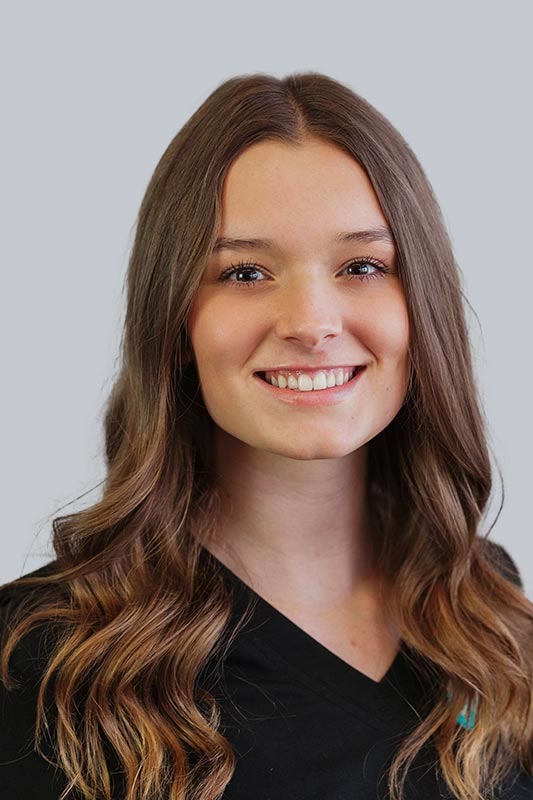 Madison Mitchell
LPN, Aesthetics Specialist
Madison (Maddie) Mitchell is a Licensed Practical Nurse currently obtaining her Registered Nursing License at Central Oregon Community College. She was born in Washington and moved to Bend in 2020. Maddie specializes in aesthetic nursing and wishes to expand her nursing career into the hospital setting once she becomes an RN. On her days off, Maddie enjoys spending time outdoors with her friends, family, and golden retriever, Huckleberry.
MCKENZIE LIGHTY
Licensed Massage Therapist
McKenzie Lighty, a native of Bend, Oregon, has been a Certified Massage Therapist since 2008, when she graduated from the Ashland Institute of Massage in Ashland, Oregon. Her unique style integrates training in Western and Eastern modalities, including Swedish, deep tissue, trigger point acupressure massage, myofascial and connective tissue release, TMJ, craniosacral, Thai foot reflexology, and Thai yoga massage. She has an extensive knowledge of kinesiology and incorporates this into her practice. Compassionate and outgoing, McKenzie considers herself a "forever student," always learning, growing, and adapting. She carefully listens to her patient's needs and strives to make each session meaningful, guiding patients toward balance and relaxation and helping those with chronic aches or pains. When not at work, McKenzie enjoys finding new adventures with her daughter, Willow.
NICOLE LANDIS
LMFT, Licensed Marriage & Family Therapist
Nicole holds a Master's degree in Marriage & Family Therapy from Antioch University and a Bachelor of Arts in Psychology from Seattle Pacific University. Working in the mental health field for over seven years has brought her to various settings such as outpatient clinics, inpatient psychiatric units, schools, and the emergency room. She has significant experience working with adolescents in therapy and patients in crisis. Warm and considerate, Nicole is inspired by her patients' resilience and loves seeing them reach their goals in a safe, healing space. She helps patients of all backgrounds recognize their strengths and values to thrive in their everyday lives. In her free time, she enjoys hiking and exploring with her dog.
BECKY ELGER HERNANDEZ
Licensed Clinical Social Worker
Becky is a Licensed Clinical Social Worker with a Masters in Social Work from Walla Walla University. Becky believes that building a safe and supportive therapeutic relationship is key to creating a space to explore and address issues and concerns. She uses a combination of cognitive behavioral therapy with mindfulness to foster coping skills to help individuals explore and understand how our interpersonal relationships affect our past and present and the impact it has on our lives. Becky works to assist in improving her clients quality of life by identifying ways to better cope and manage so they can be the happiest, healthiest version of themselves.
Becky has training and experience working with Cognitive Behavioral Therapy, Motivational Interviewing and Dialectical Behavioral Therapy. When she's not at work, she enjoys spending time with her family and friends, hiking, camping, and exploring Central Oregon.